Shiraz – The Perfect Starting Point for Your Vacation
Begin Your Journey in Beautiful Shiraz
Our Iran tour promises an unforgettable experience of history and culture. And we start making good on that promise the moment you step out of the plane. After flying more than 7,000 miles from the US, we take you straight to the cultural capital of Iran: Shiraz, an ancient city that roots back to 2000 BC.
The City with Many Names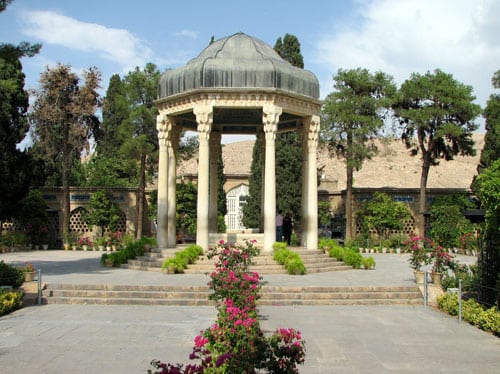 Shiraz is known by many names. To classical geographers, it is Dar al-'Elm, the House of Knowledge. To philosophers, Shiraz is the Athens of Iran. To a lot of people, it is the City of Poets, of Gardens, and of Flowers and Nightingale.
In the 13th century, Shiraz enjoyed a period of peace. Arts and literature flourished under the rule of Atabak Abubakr Sa'd ibn Zangy. Encouraged and highly-regarded, poets, mystics, scholars and philosophers emerged in Shiraz. Their works continue to be popular among Iranians upto this day.
In fact, Hafez and Saadi, two of Iran's most loved poets, came from Shiraz.
Hafez, considered as the most prominent Persian poet and a literary wonder, is immortalized by his love poems and mystical writings. His life and work has been subject to much interpretation and study. He died in 1390 but his influence continues to live. His words have turned into proverbs and sayings many Iranians live by. Located in the northern Edge of Shiraz, the Tomb of Hafez holds a special place in the hearts of Iranians, especially to those who seek answers about life.
Fondly called as "The Master", Saadi is celebrated for his profound poems that often challenges social and moral views. His simple yet distinctive style makes the messages of his poems clear, pithy, and striking. Like Hafez, Saadi and his works has gained global recognition.
Shiraz: Once the Great Capital of Iran
At present, Tehran is the capital of Iran. But in the 18th century, it was Shiraz. The Zand Dynasty ruled Iran from 1750 to 1800 and it was a time of economic growth. With Kharim Khan Zand at the helm, Iran was able to regain control, coherence, and prosperity. The arts had a chance again and his reign brought about the gardens Shiraz is known for today.
Kharim Khan's death in 1779 led to Iran's decline. Without his leadership and military prowess, Iran found itself under attack once more. The new ruler brought down Shiraz's defenses and declared Tehran as capital. Despite that, Shiraz maintained its strong position in the Persian Gulf Trade and managed to protect its prosperity.
Now, all that struggle is a thing of the past. Shiraz and the rest of the Iranian cities are safe and progressing. R&R — restoration and reconstruction — is in motion. Once more, the sights are ready for you to see and experience.
Come and see for yourself the famous Tomb of Hafez, and understand why Iranians love his wisdom. Learn more about Kharim Khan and his dynasty. Stroll through Shiraz's verdant gardens and breathe in the fresh air this city is proud of. Join our Iran tour and you'll get all these and more.